Principal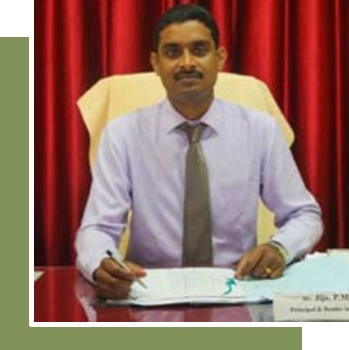 Dr. JIJO P M, PhD Principal and Professor of Audiology
I am delighted to welcome you to the JSS Institute of Speech and Hearing, Dharwad. This institute was established in 2014 by JSS Mahavidyapeetha, Mysuru, aiming to provide quality education and clinical services to the people of northern Karnataka.
The institute is recognized by the Rehabilitation Council of India (RCI), New Delhi and affiliated with the Karnatak University, Dharwad. It is also recognized as a rehabilitation centre for Cochlear Implant schemes such as 'The Scheme of Assistance to Disabled Persons for Purchase/Fitting of Aids and Appliances (ADIP Scheme), Govt of India and Suvarna Arogya Suraksha Trust (SAST) Govt. of Karnataka'.
The institute offers a Bachelor of Audiology and Speech-Language Pathology (BASLP) program, the first of its kind in north Karnataka. Our objective is not only to generate quality human resources but also to reach out to the needy population in the region. We conduct public education activities such as camps and orientation programs to create awareness among the general public about speech and hearing.
At JSS Institute of Speech and Hearing, Dharwad, we are committed to providing affordable clinical services and need-based research. The institute is a centre for early identification, assessment and management of communication disorders in northern Karnataka. Our focus is on creating compassionate healthcare professionals who can serve the community.
Area of interest: Diagnostic Audiology, Speech Perception
Email: jssishdwd@gmail.com
Dr. JIJO P M, PhD
Principal and Professor of Audiology
About Principal
Dr. Jijo P M, an accomplished professional in the field of Audiology, has had a remarkable academic and professional journey. He earned his PhD in Audiology from the All India Institute of Speech and Hearing, Mysuru, under the guidance of Professor Asha Yathiraj. He also completed his Master's degree in Audiology from the same institute and B Sc in speech and Hearing from JSS Institute of Speech and Hearing, Mysuru.
Currently serving as the Principal and Professor at JSS Institute of Speech and Hearing, Dharwad, Dr. Jijo has extensive experience working in various institutions in India and abroad. He has served as a Clinical Audiologist, Junior Research Fellow, and Lecturer in Audiology, showcasing his versatile expertise in the field.
Dr. Jijo began his career as a clinical audiologist in Nigeria before pursuing his PhD in Audiology in India. He has also worked as a lecturer in Audiology at the prestigious All India Institute of Speech and Hearing, Mysuru, for five years. His contributions to the field are evident through his numerous publications in reputed international and national journals, research projects, presentations on various scientific platforms, and serving as an examiner to various universities. Dr. Jijo is a valuable asset to the field of Audiology and an inspiration to aspiring professionals.
Publications